Our Pilates journey from offline to online: what we've learnt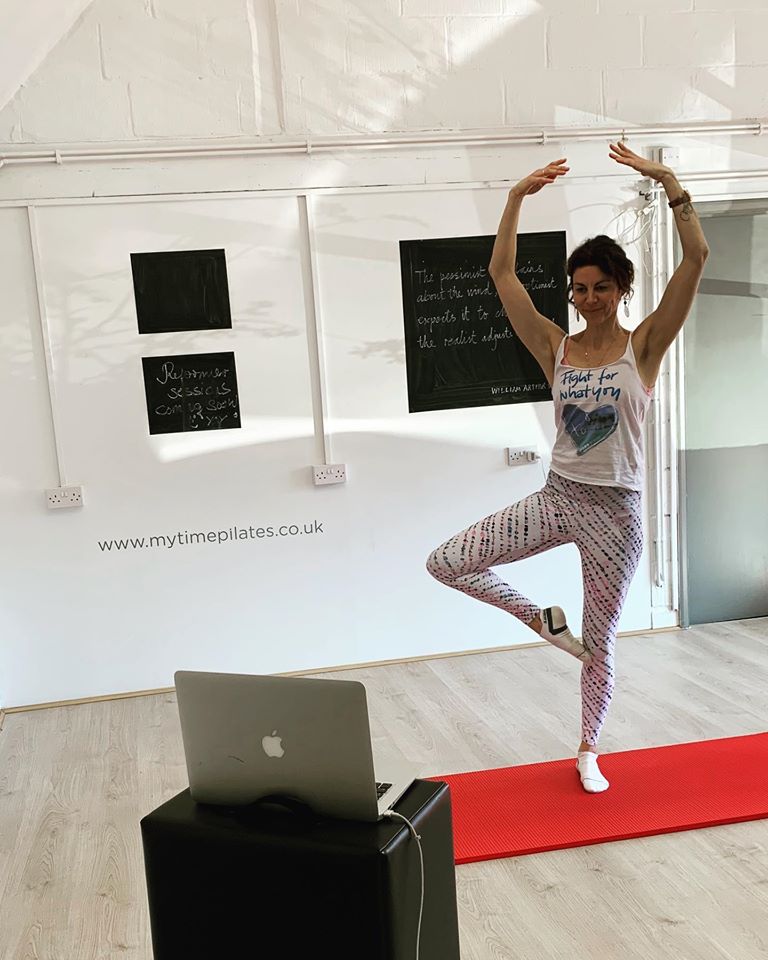 As we find ourselves in uncharted territory in 2020 – both in our work and social lives – many of us are turning to exercise for solace. Our online Pilates sessions have been a roaring success so far, but this hasn't happened by accident. So as we shift our business, but also our organisational mindset, from offline to online, what skills have we learnt to help support people during these difficult times? 
Get corporate!
As a result of the recent changes, I currently have the pleasure of training a business management team who are all working from home, and the feedback has been great. As the CEO highlighted, the benefits of the sessions are two-fold: not only are we providing an invaluable team-building experience, but also, a bout of physical activity which gets the team moving and motivated for the day, despite being stuck indoors.
Get social!
In lieu of our normal studio sessions, our Zoom classes run throughout the week to suit the needs and timescales of as many clients as possible. From a social aspect, this has been such a positive experience. At the beginning and end of each class, we spend five minutes chatting to each other, so that everyone feels really connected throughout the workout, as well as leaving on a high as they go about their day. For those who already know each other, they can join a pre-arranged Pilates 'hangout' without the hassle of organising a social get-together. Meanwhile, our classes have also been great for new clients who are looking to meet new friends during a time in which they would otherwise feel isolated.
Rise to the tech challenge!
We've managed to overcome a few technical hurdles in a very short space of time to get our classes up and running in line with the Government guidelines back in March. Firstly, we had to set up a new broadband connection quickly to facilitate the online sessions. Then we realised we would need a premium Zoom subscription to host the required number of participants. So our organisational mindset has shifted from worrying about re-stocking the restroom with toilet rolls, to having the digital infrastructure in place to enable classes to run without a hitch. (Although we do still sanitise every door handle, mat and block for those who come in to teach!)
Work as a team!
Part of this process includes ensuring all meeting IDs are set up correctly – and that each client has their own up-to-date ID in advance of each class, especially during the switch from term-time to Eastertime log-ins. Sarah has been a superstar, working hard every day to ensure everyone has access to classes, helping them rebook courses, and keeping them up-to-date when emails don't get through. What's more, Sarah is now also busy sending out new passwords to each client in light of Zoom's latest update on security settings.
Meanwhile, our content writer has been on standby to make sure we get out the right communications at the right time. Working as a team has enabled us to be more agile than normal as we respond to changing circumstances.
Master our video equipment!
In terms of the physical aspects of teaching online, we've had so much fun and I feel fortunate that we've been able to service our customers in this new way. But of course this has depended on us being able to use our equipment effectively! In terms of visibility, we've needed to make sure we position the screen at the right angle, with the optimum backdrop, so that everyone can see us clearly, especially when we start in standing, and end up in line, or vice versa. Sharon and I tend to go to the screen multiple times during a session to check and advise on individual movements, and to make sure we can see and motivate everyone – before moving back into position to ensure everyone can see us. Naturally this keeps us moving a lot more than we usually do, plus we're demonstrating more of the exercises, more of the time.
Meanwhile, if the sound isn't loud enough, we need to raise our voices so people can hear us through the microphone, especially when we need to speak over any music that we're using. So despite teaching slightly fewer hours in the week, online sessions are actually more intense, and more exhausting for us, than our studio sessions.
These are just some of the practical skills we've picked up, but we've also learned to provide a range of emotional support to our clients. This includes being responsive to their different needs, empathic to their current financial situation, and generally adapting to changing circumstances as and when they arise.
The best way of describing the transition from studio to living room is "challenging but rewarding". We'd like to thank our dedicated staff, as well as our lovely clients, who have continued to support us through this change.
#onlineexercise #onlinepilates #stayathome #exerciseathome