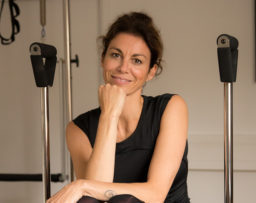 Bea – Studio Owner and Instructor
Born in Germany in 1975, Bea was three years old before she found her way into a gym and often wonders what took her so long! Bea soon went on to represent her county, performing acrobatic gymnastics and athletics at a national level. Taking her passion a step further, she went on to complete a six-year Masters degree in Sports Science at the German Sport University of Cologne.
Bea's dream was to open a school of physical education, but with the added mantra of focussing on the importance and enjoyment of movement, rather than the competitive aspects of it. In 2013, Bea graduated with Polestar, a world-class provider of Pilates teacher training, and in 2017 she completed the prestigious Polestar Comprehensive Pilates Program comprising both mat and equipment.
Turning her dream into a reality, Bea set up Mytime Pilates, which focusses on using movement to mobilise the body and maintain physical and mental balance in a relaxed, rural setting. Today, Bea can be proud of her studio which offers clients a mixture of mat classes, equipment classes and one-to-one sessions.
To develop her skillset further, Bea has attended workshops on pre-natal and post-natal Pilates; the role of feet in Pilates; and Standing Pilates; and will soon be attending a session on the post-injury mechanics of the knee and hip.
In Bea's spare time she loves nothing better than kite surfing – the ocean is where she finds true inner peace – and spending time with her children and dogs at home.
Three words that describe Bea: Vivacious, Determined, Passionate.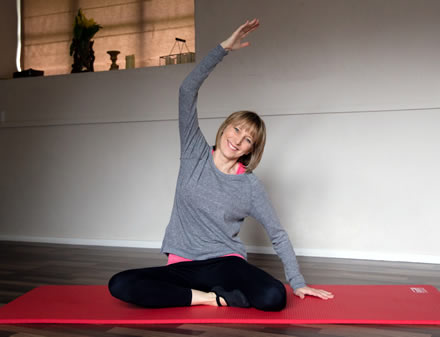 Sharon – Instructor
Having suffered from childhood asthma, Sharon's first real foray into regular exercise was as client of mytime, when she first attended classes to relieve her back pain. Following a career in the oil industry, her passion for Pilates quickly grew, and, admiring Bea's teaching technique, she went on to gain her own Polestar Matwork accreditation in September 2017. Sharon then completed the Comprehensive Pilates Program in September 2018, which has helped to increase her repertoire of movements to meet her clients' ever-changing needs. She is now an invaluable part of the mytime team, and relentlessly pushes clients to work harder, although her reassuring smile means you can't be cross with her! Constantly eager to increase her skillset, Sharon has recently attended workshops in pre-natal and post-natal Pilates, as well as the Franklin Method for a Healthy Spine, which helps to improve flexibility, balance and strength.
When not in the studio, Sharon enjoys encouraging her teenage children away from their screens for some quality family time, as well as rigorous tap dancing classes which help keep her heart rate up and a smile on her face.
Three words that describe Sharon: Practical, Consistent, Respectful.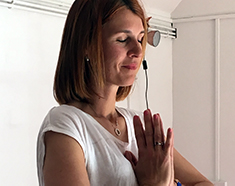 Katya – Instructor
Having previously worked as a fashion HR Manager, Katya retrained as a Pilates instructor following the birth of her three children, and joined the mytime team in 2018. Katya also spent ten years practicing equipment Pilates in Hong Kong and London before completing the Polestar Comprehensive Program in March 2018. Katya never fails to put a smile on our faces. A warm and welcoming lady, her challenging yet fun classes focus on breath and body awareness; finding efficiency in movement; and achieving optimum postural alignment. Katya's aim is to help her clients improve their level of fitness and form, as well as reducing the risk of injury. Free spirit Katya – we call her that as her passion for teaching means she will often overrun for 10 minutes without realising! – is a real credit to our team as we are constantly told by our clients.
Aside from working at mytime, Katya is the Chair of Governors at a local primary school, where she also teaches netball, and at home she enjoys spending time with her children and dogs.
Three words that describe Katya: Calm, Compassionate, Fun-loving.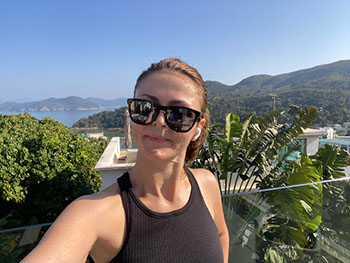 Mawgan – Instructor
It was early in 2019 that Mawgan decided to do a complete career change and swapped her desk job for the Pilates mat when she undertook the Polestar Pilates mat teaching qualification in Hong Kong. She discovered the rewards of helping people overcome injuries, reconnect with their bodies and fall in love with Pilates. Mawgan is a passionate teacher who fuses the fundamentals of Joseph Pilates' mat exercises with functional movements to make each session different and relevant.
After moving to Hong Kong in 2011 with two small children and a husband, Mawgan made the most of the opportunities on offer in the vibrant city and started her own media company, which she sold in 2015. She then moved into marketing and strategy consultancy for small businesses and it was during those years of working hard, eating out too much and spending too much time sitting at a desk, that Mawgan was introduced to Pilates. She hasn't looked back since.
Now back in England, and delighted to be part of the Mytime Pilates team, Mawgan enjoys teaching both group and private classes to complete beginners, experienced practitioners and everyone in between!
Mawgan loves spending time with her family, exploring new places and lifting heavy weights!
Three words that describe Mawgan: Fun, enthusiastic, focused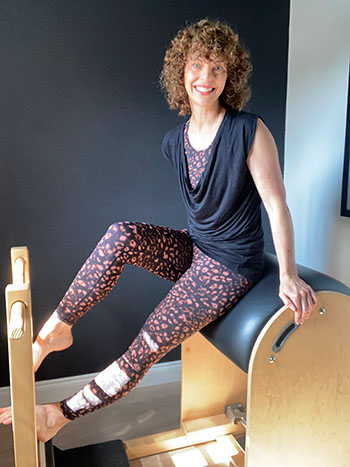 Ainsley – Instructor
When Ainsley was a fashion designer some 20 years ago, she discovered Pilates as her 'go to' movement solution for both body and mind. A combination of being hunched over a desk, a long sedentary commute, long-haul flights and a constant pressure to be her best left her depleted and drained. Pilates offered Ainsley a body and mind movement experience which left her feeling revived and energised. Knowing she wanted to help others with this holistic and integrated approach, in 2020 she started her training, and will complete the Polestar Comprehensive Pilates Program in September 2021 for mat and equipment.
Ainsley has an intuitive approach to movement and is passionate about tailoring the experience to each individual. Her teaching style is best described as working out with a very knowledgeable friend – relaxed, fun and someone you can trust. She loves an early morning meditation or breathing session, cuppa
To see who is teaching what at mytime, please click here to see our timetable.